Today we shall discuss JAYYYYYYYYYYYYYYYYYYYYYYYYYYJAYYYYYYYYYYYYYYYYYYYYYYYYYYYYY 😛
PERSONALITY
GRUMPY!!!!! Sarcastic, witty, he gets irritated when his clan babies him about him being blind. Moody. Cute and fluffy. As a kit he and his siblings were ADORABLE, FLUFFY, adventurous, and he was pretty clumsy. Jaykit found a fox with his sense of smell before the warriors, AS AN APPRENTICE with Brightheart and Longtail he was stubborn and full of attitude. He disobeyed and was often angry. He eventually decided to become a medicine cat, though was annoyed by it and Brightheart ignoring him. As a medicine cat, he is just how I described him, GRUMPY!!!! Sarcastic, witty, irritated. Yeah.
Family?
He has some family problems er, his birth broke two codes. He is the son of Leafpool, the other medicine cat also former mentor, and former warrior, (only temporarily) and Crowfeather, the annoying WindClan warrior. Crowfeather doesn't care about him. Hollyleaf is dead and before she died was missing for seasons, so really only Leafpool and Lionblaze have a good family bond with him. He also has a lot of ships. O-O Though none of them are completely canon, Briar and Half or sorta-half-canon. I don't know. O-O
Looks
He is a silver tabby tom with blind blue eyes. 
He looks so evil in this one, his fur looks like an evil jacket 😛
I think now I'm just gonna overwhelm everyone with 1000000 jayfeathers.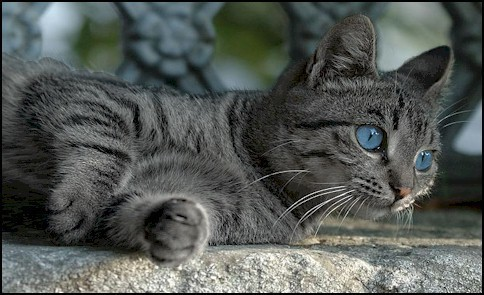 IT WITTLE JAYFEATHER IRL! <3
 AWWWWWWWWWWWWWWWWWWWWWWWWWWWWWWWWWWWWWWWWWWWW HOW IS THIS POSSIBLE????
I DO NOT OWN THE FLUFFY KITTY ART!